CCTV-Cogito, ergo sum
The CCTV SSS Cogito Formula
Cogito, ergo sum. (Descartes)
Being watched, ergo sum?
Being watched, ergo registered.
Being registered, ergo killed.
Being killed, ergo watched!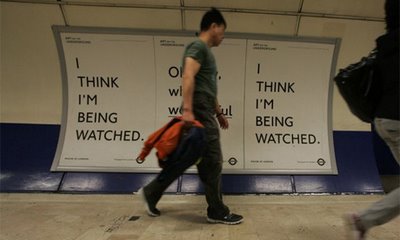 Underground poster referring to CCTV cameras. Photograph: Tony Kyriacou/Rex features
Statutes of liberty
From the Magna Carta to CCTV, a new exhibition at the British Library tells the definitive story of the nation's fight for liberty.
http://www.guardian.co.uk/uk/2008/oct/30/civil-liberties-exhibition-british-library
Watch:
Self-surveillance System (SSS)
CCTV cameras behind the Tron Theater Glasgow watching each other from eye to eye.



Don't worry! Everthing is working fine! Watch the entries coming :-))


Responses to my Blog entry in the time of 1/2-1 second!!!??
HTML: http://www.thinkartlab.com/pkl/media/cogito-ergo-sum/cogito-ergo-sum.html

4 Channel DVR CCTV system
Digital Video Recorder with Network 160 and 250 GB HD,
Motion Detection
www.spycameracctv.com

Quality CCTV at 2seetv
Complete cctv systems Easy fit ideal for home or business
www.2seetv.co.uk/acatalog/CCTV_Syst

Covert CCTV
Design, Supply and Installation of Covert CCTV Systems in
Scotland
www.scssecuritydesign.com
Wireless security camera

The Wireless / Spy Cam Specialists. Unbeatable Prices.
www.pakatak.co.ukHigh Quality CCTV
Digital DIY CCTV Systems at Amazingly Low Prices
www.CricklewoodElectronics.com

Wireless CCTV
Design, Supply and Installation of Wireless CCTV Systems
in Scotland
www.scssecuritydesign.com

Cctv Systems Leeds Yorks
Installation of cctv systems in the Yorkshire area. rent - buy
- lease
www.taybell.co.uk

GeoVision From £149.99
40% Off Sale Ending Soon! 16 Channel GV600 from
£149.99
www.BradstoneElectronics.co.uk